EDUCATING YOUNG GENERATIONS
Attract and support the young people – since they are the future. The motto of Hungaroring is clear and logical, because for a race track the importance of a young generation who are successful in the motorsports is equal to that of the new generation of supporters. These two are obviously closely connected. At the Motorbike Academy everybody can familiarize themselves with the basics of the sport from the smallest ones to older children, not to mention Miniring, where the obvious aim is not racing but the emphasis is on road safety education and to popularize motorization among children. They will be the spectators of the future. Those who love speed but are satisfied to watch the events from the side of the track. Hungaroring is trying to provide heroes for children who inspire them during their everyday lives.
Because it is them who signal the way for the young ones, who are the examples to follow. Hungaroring, due to its profile, obviously opens towards technical sports.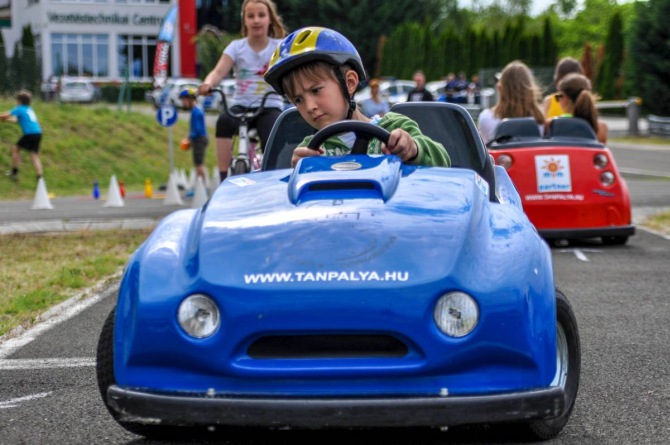 Norbert Michelisz, one of the best-known sports person of Hungary who consecutively received the Sportsman of the Year prize in the past three years at the Gala of Sport Stars and who attracts up to eighty-thousand spectators each year to Hungaroring for the Hungarian run of the World Touring Car Championship. It also means that we could not have been able to find a better person than him to popularize our programmes.
Michelisz races in one of the most popular speed car race series of the world, regularly wins runs achieving podium positions and has a word in whatever he comments on – people pay attention to him, be it adults or children. Norbi is the face of our Driving Centre.
In representation of the ladies, Edina Bús is who we introduce to the young people as inspiration: Edina first flashed her lion claws in the Lotus Ladies Cup (winning several championships), and since then has tried her skills in lower categories as well – mainly successfully. It is not an exaggeration to say: Edina Bús is the best Hungarian female motorsport racer who is an equal contestant with men. To extend our focus also to the fans of speed on two wheels, we have chosen a highly successful sports person from among the Hungarian motorbike racers too. He is Adrian Gyutai, champion of the Alps-Adriatic Challenge and Hungarian Champion and is an authentic voice talking to the motorbikers. "Racing is not a mere sport but a lifestyle." – the young racer says whose devotion and humbleness is an inspiration to all.
Máté Szántó follows in his footsteps who practically learned the basics of speed on two wheels here at Hungaroring, and however he is only ten years old, he already has a lot of victories under the belt in the fifty-cubic cm category.